Chukuka S. Enwemeka
This article was written by Emmanuel B. John, BSc, MNSP, LPT - Editor, National PhysioNews, the Official Newsletter of the Nigeria Society of Physiotherapy. Published in National PhysioNews, Volume 1, No. 3, p20-21, 2002. However, effective July 1, 2014, Dr. Chukuka Enwemeka is Provost & Senior Vice-President, San Diego State University, San Diego, California, USA. Prior, he was University Distinguished Professor and Dean, College of Health Sciences, University of Wisconsin-Milwaukee from August 2009-June 2014. Dr. Enwemeka was also Professor and Dean, School of Health Professions, Behavioral and Life Sciences, New York Institute of Technology from March 1, 2003 to July 31, 2009.
CHUKUKA S. ENWEMEKA, PT, PhD, FACSM
Professor & Chairman of KUMC Department of Physical Therapy - A Worthy Ambassador of Nigeria Physiotherapy Training Programs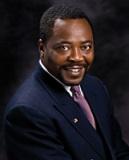 Twenty-three (23) years ago, a 25 year old man was 'rolled-out' of the 'Assembly/ Production line' of the BSc (Hons) Physiotherapy program of the University of Ibadan. In his graduating class of 33 students, he was one of only three that graduated with 2nd Class Upper Division academic honours. This solid grounding at Ibadan prepared him for the 'grind-mills' of various post-graduate programs in the United States of America (USA) where his clinical, academic and research skills were further honed and refined. Today he has become an international icon for physical therapy, laser therapy, photobiology and collagen biochemistry, a luminary, a gem, and a worthy Ambassador of Nigerian Physiotherapy Education and Training. Chukuka Samuel Enwemeka, PT, BSc, MSc, PhD, FACSM is Professor and Chairman, Department of Physical Therapy Education at Kansas University Medical Center (KUMC), Kansas City, USA. He is an astute Researcher, a vastly published author, an International Journal Editor-in-Chief, a Physical Therapist, an Anatomist, a Consultant, a Highly sorted-after International Speaker, an Academic Administrator and Leader, a Mentor, one of the foremost experts on Laser Therapy and Photobiology, an Educational Consultant and Curriculum Expert, a Sports Medicine Expert, a Visiting Professor to various Schools around the world, and much more.
Sam as his contemporaries' back at home call him has risen through the ranks and file of physiotherapy training and practice to become a great blessing to the world, even outside the realm of physiotherapy. A cursory look at his profile reveals a highly traveled scholar, a man with many feathers to his cap, and a man of many parts-a scientist and physiotherapist par excellence who stands tall amongst his contemporaries worldwide.
Let's take a brief look:
Dr Enwemeka has in his kitty about 45 original peer-reviewed research papers, monographs, book chapters; over 100 published research abstracts; about 100 papers, seminars, symposia, and workshops presentations (including 51 invited international presentations, i.e. outside the USA). A book solely authored by him, "The Science of Human Motion" to be published by Williams & Wilkins Publishers, Baltimore, will soon hit the 'literary stands'. He is currently the Chairperson of the US National Advisory Board on Medical Rehabilitation Research at the National Institutes of Health (NIH) in Bethesda, MD. This Board consists of bioengineers, health consumer advocates, internists, lawyers, lay citizens, neurosurgeons, orthopedic surgeons, physiatrists, rehabilitation engineers, and scientists from various disciplines. He is a Fellow of the prestigious American College of Sports Medicine (FACSM) since 1991. He is member, Who is Who in Science & Engineering.
Dr Enwemeka is an astute researcher who has handled from 1981 to date Research Grants (from various sources) in excess of $1,247,000 as Principal Investigator; excess of $277,500 as Co-Investigator, and various $ amounts for equipment grants. His present research focus include; connective tissue plasticity and adaptation, effects of physical agents, i.e. ultrasound, laser photo stimulation, electrical stimulation, exercise and physical activities on connective tissues, especially tendons and ligaments.
Dr Enwemeka, early in his professional life, became interested in Photobiology and Laser therapy. He has conducted scores of research investigations and studies on Photobiology and Laser Therapy. In recognition of his works and contribution to knowledge, he was elected President, World Association for Laser Therapy (WALT), 1998-2000. The WALT is a multidisciplinary International Organisation consisting of biomedical scientists from a wide range of disciplines, cosmetic and aesthetic surgeons, health consumers and advocates, dentists, dermatologists, engineers, internists, neuro-surgeons. orthopaedic surgeons, plastic surgeons, physical therapists, physicists and rehabilitation physicians. To date, Professor Enwemeka is the first and only non-physician to be so elected or honored. He was also recently elected Editor-in-Chief of "Laser Therapy", the Official Journal of WALT He has been on WALT'S Editorial Board since 1991 and served as the Co-Editor-in-Chief from 1994-2000. Dr. Enwemeka was also Congress Chairman, 2nd Congress of the WALT held from 2nd-5th September, 1998 in Kansas City, MO, USA.
Dr Enwemeka is a widely traveled scholar. He has visited at least 42 of the 50 States of the USA and 21 other countries—Argentina, 2000; Australia, 2000 (x2). Bahamas, 1989; Brazil, 1998 & 1999; Canada, 1988, 1990,1992 & 1994; Colombia, 2001: Germany, 1986,1998,1999 & 2001 Greece, 2000; Israel, 2000; Italy, 1997,1998; Japan, 1990,1991,1997,1998,1999,2000; Mexico, 1986, 1987; The Netherlands, 1986,1997; Nigeria, (Birth place, lived there from 1953-1981; travels there every two years approx.); Norway, 1995; Palestine, 2000; Romania, 1997,1998,1999,2000 & 2001 Singapore, 2000; Spain, 1994; Taiwan, 1989; United Kingdom, 1981,1982, 1984,1985,1986,1991,1993,1994,1996, 1997,1998,1999,2000; USA, (lives here now, since August, 1981).
In recognition of his academic stature, Dr Enwemeka has been invited to several Universities and Colleges around the world as a speaker or Visiting Professor. Most recently, he was Visiting Professor of Physical Therapy at the Research Institute for Health Science & Education, Tokyo, Japan (during October and November, 2000) and Curtin University of Science & Technology, School of Physiotherapy, Perth, Australia from April to July, 2000.
Dr Enwemeka is also the President, Kansas City Coalition to promote Diversity in Physical Therapy (CPD), since 1996; member, Board of Directors, Black Health Care Coalition, Kansas City; member, American Association of University Professors (1993 to1997). He is also member of over a dozen other professional and,'Research Associations including the APTA, ACSM, etc that space will not permit to itemize. Dr Enwemeka is also a Grant reviewer of many Institutes & Research Organizations in the US. He is also a Peer Reviewer for Physical Therapy, Journal of APTA and the Journal of Orthopedic & Sports Physical Therapy. He was Director, Parish Social Ministry of Christ the King Church, Perrine, Florida (2/92-2/93).
Dr Enwemeka is a man held in high esteem by his peers juniors and senior colleagues for his thoroughness, integrity, industry, and academic stature. He is a man dedicated to his professional calling and has an obvious passion for the physiotherapy profession. The physical therapists privileged to be mentored by him have become great professionals, researchers and faculty members, earning promotions and tenured positions in various Physical Therapy Programs and Schools. Dr Enwemeka to date has supervised at least 2 PhD Dissertations and 60 MS degree research works. He has mentored at least 6 Research Fellows and 3 Faculty members at the University of Kansas to achieve tenure and promotion from Assistant Professor to Associate Professor.
Born on 7th March, 1953, Professor Enwemeka hails from Agbor in Ika Local government Area of Delta State. He is married with three children. His wife Grace, holds a MSc degree and she is a Certified Case Manager (CCM). Their 1st son, Chukuka (Jr), 20, is a Computer Engineering Major at Kansas State University, Zeninjor, 16, a girl, and Sombiri, 15, a boy, are both in High School.
Dr Enwemeka received his secondary school education at St. Columbas Grammar School, Agbor, Delta State. After graduating from Ibadan, he did his National Youth Service Corps (NYSC) at State Specialist Hospital Abeokuta (1978-1979). He was thereafter employed as Basic Grade Physiotherapist at the University of Benin Teaching Hospital (UBTH), Benin (1979-1980). While in UBTH he carried out a number of clinical researches published in reputable Journals. He also presented papers at some Conferences and Seminars.
Recognizing his potential, the University of Port-Harcourt(UNIPORT) employed him as an Assistant Lecturer in their College of Health Sciences to lecture Gross Anatomy (tutorials) and to Coordinate Physiotherapy Services at the UNIPORT Teaching Hospital (1980-1984). While at UNIPORT, he was elected member of a number of Committees. That is, the Curriculum Development and Evaluation Committee, Admissions Committee and University Class Schedule Committee. Within a few months of his appointment, the UNIPORT Senate granted him a research grant equivalent to $4,000 (1981) for "A Cohort Study of Physical Deformities in Nigeria Schools", the result of which was published in International Journal of Rehabilitation Research.
UNIPORT granted him a study leave from August 1981 to August 1984. In record 3 years he bagged a MSc Musculoskeletal Physical Therapy degree from the University of Southern California, Los Angeles and a PhD in Pathokinesiology from New York University (NYU). He completed the Ph.D degree requirements in Autumn 1984 and graduated with other Ph.D. students at the next ceremonial opportunity in February 1985. Dr Enwemeka's PhD academic records at the NYU are outstanding. He astounded the PG School and the University Senate at NYU by completing his PhD in record 19 months! A record that remains unmatched to date, 17 years later. Within this period, Dr. Enwemeka took 66 credit hours of course work with impressive grades, and completed his Ph.D. research dissertation. Dr Enwemeka then underwent Post Doctoral Training at the Tissue Culture Research Laboratory, Rusk Institute of Rehabilitation Medicine, New York University Medical Center, New York (1985-1986). Concurrently, he held the position of Adjunct Associate Professor (9/ 85-2/86) at Long Island University-Brooklyn Campus, and Consultant PT to a number of facilities around New York Area. He founded and served as Director of Interstate Therapy Associates, Brooklyn (10/84-2/86). With this Agency, he helped a few Nigerian Physiotherapists with employment.
Thereafter, he took a full-time faculty appointment at University of Texas Health Center from March 1986 to August 1989 in the following capacities: Assistant Professor of Physical Therapy (Primary Department), Assistant Professor of Cellular & Structural Biology (Joint Appointment), Assistant Professor of Physical Medicine & Rehabilitation (Secondary Appointment), Assistant Professor of Physiology (Secondary Appointment), Assistant Professor of Occupational Therapy (Secondary Appointment), Assistant Professor of Life Science (Automatic Secondary Appointment). Dr Enwemeka spearheaded the successful development of a collaborative MSc. degree between the Departments of Physical Therapy and Physiology at the University of Texas in 1989.
From September 1989 to February 1993, Dr Enwemeka served as Associate Professor of Orthopedics & Rehabilitation and Associate Director for Research in the Division of Physical Therapy, University of Miami School of Medicine, Miami, Florida. Here, Dr Enwemeka initiated and spearheaded the effort to develop a PhD program in Physical Therapy and took the program through various levels of approval in the University. At the Department of Veterans Affairs Miami Medical Center, he also served as research Investigator (WOC) within same period. Dr Enwemeka's current position is Professor and Chairman of the Department of Physical Therapy Education and Professor of Anatomy & Cell Biology (3/93-6/99) at the Kansas University Medical Center.
THE UNIVERSITY OF KANSAS
From a 1996 National survey, the University of Kansas ranked 10th amongst public schools in the USA. It is a major educational and research institution with over 28,000 students and over 2,100 faculty members. The University -a big one-include the main campus in Lawrence; the Medical Center in Kansas City, the Regent Center on Edwards campus in Overland Park; a clinical campus of the School of Medicine in Wichita; and educational and research facilities throughout Kansas State. The University is an Equal opportunity Institution providing programs and activities to all persons, regardless of race, color, religion, sex, etc.
ENWEMEKA & THE DEPARTMENT OF PHYSICAL THERAPY EDUCATION AT KUMC
The Department of Physical Therapy Education was established in 1943 as a 9-month certificate program, which has now grown to a 2-years Master of Science, a PhD (Rehabilitation Science), and a joint MS-PhD (MSc Physical Therapy & Ph.D. Rehabilitation Science) program. As at March 1993 when Dr Enwemeka was appointed the Professor & Chairman, the department at KUMC was a floundering un-ranked Academic Department on probationary accreditation with a derisory history of research and development. It had a faculty pool of 7.3 full time Equivalent (FTE) Lecturers with only one PhD faculty member.
Today Dr Enwemeka's Academic Leadership has transformed the department into a nationally recognized Research Entity. The KUMC PT program now ranks 28 out of 238 accredited programs in the USA. This was achieved via a progressive refinement of professional curriculum to achieve a seamless blend of didactic classroom teaching, clinical case studies, hand-on laboratory teaching, and contemporary patient care experience and by promoting continual adaptation to changes in the health industry. This has resulted in a significant improvement in students' performance on the national board examination. Students' passing rate in their first attempt of the national board examination range from 96 to 100%, approximately 10-20 percentage points above the national average. Also in this process six (6) research facilities were built, peer-reviewed publications in high quality Journals from faculty members quintupled, grants rose from a paltry $2000 internal grant in 1993 to approximately $1,200,000 (mostly from the NIH and other National Sources) by 2000. The faculty pool increased to 17 FTEs, with 10.5 FTEs held by PhDs, many of who have strong records of teaching/or publications, and has earned promotions and tenured appointments.
Dr Enwemeka campaigned and raised funds from friends and alumni to support several academic initiative; the yearly increase in funds derived from endowments sources range from 1000-2500% between 1993 and 1997. Dr Enwemeka also initiated and Spearheaded the successful development and implimentation of an entry-level distance education Master of Science degree program in Physical Therapy at Pittsburg, KS, (a rural community in South East Kansas), a unique program and one of a few in the USA, which entails the delivery of an entire clinical curriculum to a distant site, using a medley of inter-active Internet technologies, two-way compressed video technology, email, video conferencing, and other distance education strategies.
He spearheaded the development and implementation of two innovative research-intensive Ph.D. programs approved by the University of Kansas and the Kansas Board of Regents; a Ph.D. in Rehabilitation Science, and a joint degree MS-PhD program (MS in Physical Therapy, and a PhD in Rehabilitation Science). Dr Enwemeka similarly re-engineered the Department's administrative processes to enhance functionality; and to absorb the growth from 8.3 to 24 FTE faculty and staff members, above all to foster cohesion among faculty and staff.
SUMMARY OF CONTRIBUTIONS OF DR ENWEMEKA TO NIGERIA PHYSIOTHERAPY PRACTICE
Professor CS Enwemeka has also contributed immensely to Nigeria Physiotherapy development especially in his early days in Nigeria. This is summarized thus:
Enwemeka CS: Physical Deformities in Nigerian Schools: The Port Harcourt CohortStudy. lnt J Rehab Res 7:163-172,1984.

Enwemeka CS, Adeghe NUB: Some Family Problems Associated with the Presence of a Handicapped Child in Nigeria. Child Care, Health and Development 8:133-140,1982.

Enwemeka CS: Utilization of Physiotherapy Services in Nigeria. J Africa Health; April 1981.

Enwemeka CS, Obi JO: Management Problems of Children with Cerebral Palsy in Nigeria. J Nig Soc Physio lh:13-16,1981.

EnwemekaCS: Physiotherapy and Physiotherapy Services in Nigeria. Scripted and Presented on Radio Rivers State, Port-Harcourt, Nigetia; November 15,1980.

Alakija W, Oni G, Enwemeka CS: The Effect of Increase in Hospital Fees at the University of Benin Teaching Hospital on Physiotherapy Services. Presented at the 34th Annual Conference of the Nigeria Society of Physiotherapy, Benin City, Nigeria; May 2, 1980.

Enwemeka CS: Locomotor Integrity in Post Paralytic Poliomyelitis in Nigerian Children. Presented at the 35th Annual Conference of the Nigerian Society of Physiotherapy, Owerri, Nigeria, May 3, 1981.

Enwemeka CS, Adeghe NUB: The Physical Characteristics of Patients seen at the Physiotherapy Department, University of Benin Teaching Hospital, Benin City, Nigeria, Presented at the 34th Annual Conference of the Nigeria Society of Physiotherapy, Benin City, Nigeria; April 30, 1980.

Enwemeka CS: An Appraisal of the Physiotherapeutic Management of Cerebral Palsy inNigeria. Presented attheFirst International Conference on the Handicapped Child in Africa, University of Ibadan, Ibadan, Nigeria; January 10-12,1980.

Enwemeka CS: Physical Therapy Education In Nigeria. Invited Presentation, at the Combined Sections Meeting of the American PhysicalTherapy Association held at San Francisco, February, 1992 (Sponsored by APTA Section on Community Health). This paper contributed to the reason why many Physical Therapy Employment Agencies lifted and employed many Nigerian trained Physiotherapists in the early 90's.

Associate Editor, Journal of the Nigerian Society of Physiotherapy (1987-1989)

University of Port Harcourt Teaching Hospital, Port-Harcourt, Nigeria-Coordinator of Physical Therapy Services, 3/80 - 8/84 (On study leave from 8/81 to 8/84).

University of Benin Teaching Hospital, Benin City, Nigeria, Basic Grade Physiotherapist (9/78-8/79).

State Specialists Hospital, Abeokuta, Nigeria. Basic Grade Physiotherapist, (7/78-8/79).
Professor CS Enwemeka has accepted in principle an invitation to attend the year 2002, 42nd Annual National Scientific Conference of the Nigeria Society of Physiotherapy as a Key Speaker, provided he is given at least a year's notice. He has a very busy itinerary of speaking engagements around the world, which are arranged many years in advance.
Dear Colleagues at home, please join me in giving Professor Chukuka Samuel Enwemeka a resounding & thunderous standing ovation (i.e. as you get to this point reading this artcle, stand up & give the ovation).
I hereby strongly recommend Dr Enwemeka to the NSP National Executive Council, for special recognition, honours and Award by the Society for his immense contribution to Physiotherapy practice and training worldwide.
REFERENCES
1. Enwemeka CS (June 2001). Executive Summary and Curriculum Vitae.
2. http://www.kumc.edu/SAH/pted/
3. Personal Communications with Dr. Enwemeka
4. Kansas University Office of University Relations (1998). MS PT Program Brochure