Celebrating Professor Abiodun E. Akinwuntan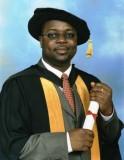 Paraphrasing a portion of scripture; "
God uses those things that seem insignificant to confound great things
". So is the case of Dr. Abiodun Emmanuel Akinwuntan, PT, MNSP BSc (Lagos), MSc (Belgium), PhD (Belgium), PGCE (United Kingdom). Dr. Akinwuntan against all expectations was recently appointed an Assistant Professor of Physical Therapy on tenure track and
Director of Driving Simulations Laboratory
, at the Medical College of Georgia (MCG), Augusta, Georgia. Alongside his appointment as a new faculty member, he was awarded a take-off grant of $240,000 for the
Driving Simulation Laboratory
. Prior to this recent appointment to the
MCG faculty
, he was employed as a Senior Lecturer at the Department of Physiotherapy, School of Health and Bioscience, University of East London, United Kingdom.
'Biodun' as he was fondly called while at the Physical Therapy School in Lagos, Nigeria at the time had a businessman orientation and approach to everything. He presented the front that he was only interested in making money and not academics. How wrong we all were in our judgments that he will eventually leave the physical therapy profession upon graduation to become a business mogul. To many colleagues and peers in school, Biodun appeared as though he was an unserious student, however some few of us that were close to him knew that it was not true. Although he played and enjoyed the very best of every extra-curricular activity that took place on campus all year through, don't be deceived, he usually studied all-night. Biodun is a very interesting character with a charming and charismatic personality that usually draws attention to him and always captivates his audience with his many funny stories and jokes. In fact he was the clown of our class that graduated in March 1994. During our sojourn in CMUL, Biodun was such an active member of KB Klub, an exclusive philanthropic medical students' klub, that he was elected president in just his second year of membership (the first in the 32 years history of the klub).
Dr. Akinwuntan started his post-elementary school academic careers at Borgu Secondary School, Kainji (1981-1986) and the Oyo State College of Arts and Science, Ile-Ife, Osun State (1986-1988) respectively for his High School and Advanced Level Certificates. He then proceeded in 1989 to the College of Medicine, University of Lagos (CMUL) for a degree in Physiotherapy. Dr. Akinwuntan graduated with 2nd Class Upper Division with Honors from the CMUL, Idi-Araba, Lagos, Nigeria in March 1994. Upon graduation from the CMUL, he proceeded to Jos University Teaching Hospital in Plateau State where he worked as an intern at the Department of Physiotherapy from 1994-1995. On completion of his internship, he served his country in the National Youth Services Scheme (NYSC) at the Abia State Sports Council and was attached to Enyimba Football Club of Aba (1995-1996).
Dr. Akinwuntan returned to Lagos in 1996 after his national service to take up appointment at Iyalode Bisoye Tejuosho Hospital, Ilupeju in Lagos. Until his arrival, there was no physical therapy department in the hospital. Dr. Akinwuntan took up the challenge, started and nurtured the physical therapy and physical fitness department in the hospital to an enviable height in three years. While at the hospital, his business orientation prevailed for a while, which resulted in him building the first locally manufactured wax bath equipment. The product of this unique achievement was presented at the Nigeria Society for Physiotherapy national conference that held at the National Orthopedic Hospital, Igbobi in 1998. However, the desire to provide empirical evidence for his other clinical successes and improvement in standardized research practices necessitated the need for future studies. This led Dr. Akinwuntan to leave his lucrative practice in the hospital in 1999 to pursue postgraduate studies in Europe.
He gained admission in to the Department of Rehabilitation Sciences, Katholieke Universiteit Leuven, Belgium for his MSc degree for the 1999-2000 academic year. He completed his Masters degree with distinction and as an outstanding graduate student, winning a competitive Research and Training Grant for his Doctoral Studies. The Interfaculty office for Development Cooperation of the Katholieke Universiteit Leuven, Belgium awarded him a 4-year tenure Doctoral Study scholarship of $72,280 to continue his unique research in post-stroke driving simulations. Dr. Akinwuntan as a doctoral student won numerous awards for his outstanding research and papers nationally within Belgium and internationally. He was an Outstanding Student Paper Award winner at the International Driving Symposium on Human Factors in Driver Assessment, Training and Vehicle Design, Snowmass Village at Aspen, Colorado, USA in August 2001. He also won a scholarship award from the Foundation Van Goethem Brichant funds ($12,045) for scientific research, which was presented by Princess Astrid of Belgium, Belgium in 2001. His doctoral study led to the first-ever use of a high fidelity and interactive driving simulator to train stroke patients to drive again anywhere in the world. Several stages of his doctoral project have been presented at international conferences including the World Congress for Physical Therapy held in Barcelona, Spain and World Congress for Physical Medicine and Rehabilitation conference in Prague, Czech Republic in 2003. Dr. Akinwuntan has published all of his studies in high impact factor international journals that can be accessed online via Pubmed. The main finding of his study was published in the journal of Neurology in September 2005 and has been generating a lot of academic, medical and media attention.
After his doctoral studies, Dr. Akinwuntan became a hot-cake to the medical science world and is much sorted after by various Universities worldwide to join their faculty and research team. He however settled temporarily in London as a Senior Lecturer in Physiotherapy at the Department of Physiotherapy, School of Health and Bioscience, University of East London, United Kingdom from 2004-2005. While there, he also pursued a 9-month Post-Doctoral study to bag a Post-Graduate Certificate in Education with specialization in 'Learning and Teaching in Higher Education'. In 2005, Dr. Akinwuntan accepted a faculty position in the Medical College of Georgia in the United States as an Assistant Professor.
Who would have predicted that our clown, businessman and supposed unserious student "Abiodun Emmanuel Akinwuntan" would become an academician and more so, the first PROFESSOR to emerge from the CMUL physical therapy class of 1994?
With a standing ovation, let us welcome Professor Abiodun Emmanuel Akinwuntan into the Nigerian Physiotherapy Network Younger Generation Nigerian PTs HALL of FAME!
Please find below PUBMED reference publications of Professor Akinwuntan as well as some of his Conference presentations on the web:
PUBMED CITATION OF PEER-REVIEWED PUBLICATIONS
1. Akinwuntan AE, De Weerdt W, Feys H, Pauwels J, Baten G, Arno P, Kiekens C. Effect of simulator training on driving after stroke: a randomized controlled trial. Neurology. 2005 Sep 27;65(6):843-50. Summary for patients in: Neurology. 2005 Sep 27;65(6):E13-4. PMID: 16186521
2. Akinwuntan AE, De Weerdt W, Feys H, Baten G, Arno P, Kiekens C. The validity of a road test after stroke. Arch Phys Med Rehabil. 2005 Mar;86(3):421-6. PMID: 15759222
3. Akinwuntan AE, DeWeerdt W, Feys H, Baten G, Arno P, Kiekens C. Reliability of a road test after stroke. Arch Phys Med Rehabil. 2003 Dec;84(12):1792-6. PMID: 14669185
4. Akinwuntan AE, Feys H, DeWeerdt W, Pauwels J, Baten G, Strypstein E. Determinants of driving after stroke. Arch Phys Med Rehabil. 2002 Mar;83(3):334-41. PMID: 11887113.
5. Van Kampen M, Bogaert G, Akinwuntan EA, Claessen L, Van Poppel H, De Weerdt W. Long-term efficacy and predictive factors of full spectrum therapy for nocturnal enuresis. J Urol. 2004 Jun;171(6 Pt 2):2599-602; discussion 2602. PMID: 15118428
6. Akinwuntan AE. COMMENTARY on "Driving after stroke: a study of recall of advice and compliance with guidelines". International Journal of Therapy and Rehabilitation 2004;11(8):358.
7. Akinwuntan AE, Feys H, De Weerdt W, Baten G, Arno P, Strypstein E, Kiekens C. Prediction of driving after stroke. A prospective study. Neurorehabil Neural Repair. 2006 Sep;20(3):417-23.
Click on links below to view some pictures of Professor Akinwuntan presenting at conferences:
http://ppc.uiowa.edu/driving-assessment/2001/confpics/pages/253.htm
http://ppc.uiowa.edu/driving-assessment/2001/confpics/pages/252.htm
http://ppc.uiowa.edu/driving-assessment/2001/confpics/pages/323.htm
http://ppc.uiowa.edu/driving-assessment/2001/confpics/pages/319.htm
http://ppc.uiowa.edu/driving-assessment/2001/confpics/pages/318.htm
http://ppc.uiowa.edu/driving-assessment/2001/confpics/pages/307.htm
http://ppc.uiowa.edu/driving-assessment/2001/confpics/pages/54.htm
http://ppc.uiowa.edu/driving-assessment/2001/confpics/pages/83.htm
http://ppc.uiowa.edu/driving-assessment/2001/confpics/pages/88.htm
-------------------------------------------------------
Report by:
Emmanuel B. John, PT, BSc, PhD
Executive Editor, Nigeria Physiotherapy Network,
Department of Physical Therapy, Howard University
College of Pharmacy, Nursing & Allied Health Sciences,
Washington DC, USA
Email: ebjohn@nigeriaphysio.net