First Cohort of UMFlint-Nigerian tDPT Students Graduate

Welcome Reception for Nigerian PT Dignitaries by UMFlint Professors
Professors of the UMFlint Physical Therapy program hosted the Nigerian PT dignitaries who were visiting UMFlint to attend the 2013 commencement ceremony where members of the 1st cohort of the Nigerian-UMFlint tDPT students graduated. The reception was graciously hosted by Professor Cindy Pfalzer at her home in Flint, MI on Friday, May 3, 2013.


Nigerian Dignitaries Visit Genesys Medical Center
Saturday, May 4, 2013: Nigerian PT Dignitaries visiting UMFlint were conducted on a tour of Genesys Medical Center, Grand Blanc, near Flint, MI. Dignitaries were conducted through the Inpatient Rehab Unit and parts of the Medical Center.


Nigerian PT Dignitaries and DPT Students at Lunch
Nigerian PT Dignitaries and the graduating Nigerian DPT students were treated to a lunch after their visit to Genesys Medical Center.

Nigerian Dignitaries Visited UMFlint PT Program
Saturday, May 4 2013: Nigerian PT Dignitaries and graduating DPT students were taken on a tour of the UMFlint School of Health Professions and Studies, and the Physical Therapy Program


UMFlint Chancellor Hosted Nigerian Dignitaries to a Luncheon
The Chancellor of the UMFlint, Dr. Ruth J. Person hosted the Nigerian dignitaries and graduating student during a traditional Commencement Luncheon.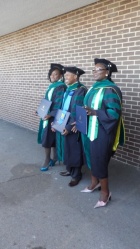 Commencement (Graduation) and Graduate Luncheon
Sunday, May 5, 2013: Nigerian PT dignitaries joined the graduating DPT students to celebrate their achievement.

The first set of Nigerian based physiotherapists who went through the online Transitional DPT program of University of Michigan-Flint graduated with their DPT degrees during the commencement ceremony of the UMFlint on Sunday, May 5, 2013. Enjoy