Francis Fatoye Promoted Reader (Associate Professor)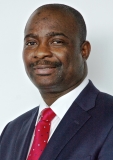 April 16, 2013
: The Nigeria Physiotherapy Network join colleagues from around the world in congratulating Dr. Francis Fatoye on his recent appointment and promotion as Reader (Associate Professor) in Physiotherapy by the Faculty of Health, Psychology & Social Care Elizabeth Gaskell Campus, Manchester Metropolitan University (MMU), United Kingdom.
Dr. Fatoye made history by becoming the first Nigerian trained physiotherapist to be so elevated in a University in the United Kingdom. This is by no means a cheap achievement. Prior to his appoitment as Reader, Dr Francis Ade Fatoye, PhD, MSc, MBA, BSc (Hons), MCSP, FHEA, MCMI was Senior Lecturer/Programme Director, MSc Practice Development in the Faculty of Health, Psychology and Social Care at MMU.
Dr. Fatoye is a BSc (Hons) Physiotherapy graduate of Nigeria's premier University, the University of Ibadan (1991). Upon graduation from the University of Ibadan, Dr. Fatoye in 1991-1992 distinguished himself as a dedicated professional during the 1-year required National Youth Service Scheme of the Nigerian Government. He served in Yola, an underserved north-eastern region of Nigeria. Dr. Fatoye's astute professional skills made him the envy of PT colleagues in Nigeria when he was appointment to serve as Physiotherapist in the most prestigious and sort-after Medical Center in Nigeria, the State House Clinic (SHC), Abuja, Nigeria. At the SHC, the best equipped Medical Center in Nigeria, physiotherapists had the responsibility of taking care of successive Nigerian Presidents, family members of Nigerian Presidents, Ministers, Senators and other highly ranked government officials including members of their families. While serving at the SHC, Dr. Fatoye managerial skills received recognition leading to his appointment as the acting Chair of the Physiotherapy Department at the SHC for a 6-month period sometime in 1994. This short administrative experience inspired Dr. Fatoye to further develop his managerial and administrative skills by earning a Master of Business Administration (MBA) degree from Ondo State (now, Adekunle Ajasin) University, Nigeria in 2001. Dr. Fatoye rose through the ranks at the SHC to become a Senior Physiotherapist before leaving the shores of Nigeria for further studies and practice in the England and Scotland, United Kingdom.
Dr. Fatoye right from the outset had shown an aptitude for academia; he seemed destined to become an educator and administrator. This came to fore during his PT practice in Nigeria; as a clinical instructor, he loved and enjoyed mentoring physiotherapy interns and students on clinical affiliations at the SHC. This passion compelled him to seek further studies in the United Kingdom first at the University of Nottingham, in England where he earned a Master's degree in Sports Medicine in 2003; and later at the Queen Margaret University, Edinburgh where he earned a PhD in Musculoskeletal PT in 2008. Dr. Fatoye during his graduate studies had his skill sets as a teacher, mentor and researcher refined and sharpened by working severally as a Graduate Teaching Assistant and Research Physiotherapist in both institutions. These trainings very adequately prepared him for his first full time faculty appointment.
Apart from his scholarship which is self-evident as may be detailed in his resume; since arriving at Manchester Metropolitan University (MMU), United Kingdom in 2006 as a Senior Lecturer, Dr. Fatoye has in the last 5 years shown various exemplary visionary leadership and administrative qualities which makes him valuable to his institution. He had been found fit to serve on various committees and with varying responsibilities for which he has been very productive. It therefore came as no surprise to me that these entire service related endeavor at MMU earned Dr. Fatoye the appointment of Program Director, MSc Practice Development in 2010. As Program Director, he accepted the challenge to resuscitate a dwindling program. Dr. Fatoye' visionary leadership within a short time-span not only repositioned this MSc Practice Development for success, indeed this program is now reported to have increased student recruitment, retention and completion rates compared to years prior.
Dr Fatoye is a reviewer for many academic professional journals, a grant reviewer for the National Institute for Health Research (NIHR), United Kingdom and currently Chair of an NIHR Committee for a funded research trial. His research work has been published widely in high impact factor international journals and presented at numerous national and international conferences.
The Nigeria Physiotherapy Network join colleagues from around the world in congratulating Dr. Francis Ade Fatoye on his appointment as Reader (Associate Professor) by the Manchester Metropolitan University.
Dr. Fatoye can be reached at:
F.Fatoye@mmu.ac.uk
.
Published
20:49:00 16.04.2013