Kayode Oke Bags PhD degree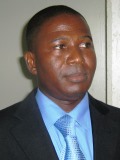 January 24, 2013
: The Nigeria Physiotherapy Network join colleagues from around the world in congratulating Dr. Kayode Israel Oke on the award of a Doctor of Philosophy (PhD) degree in Exercise Physiology/Kinesiology from the University of Benin.
Dr. Kayode Oke is a 1994 graduate of physiotherapy from the Obafemi Awolowo University (OAU) Ile Ife, Nigeria. Kayode Oke got admitted into the department of Medical Rehabilitation of the OAU, Ile Ife in 1989 after he successfully completed his secondary school education at the Government College Ibadan. He demonstrated both academic and political flairs and strengths while in Ife. He became really popular among all health sciences students since his 100 level days in the then Faculty of Health Sciences when he was among the only four (4) students in the whole of faculties of health sciences and pharmacy to score over 60% in a highly dreaded Chemistry 101 course failed by more than 90% of the examined students. Oke maintained this standard throughout his educational career in OAU despite his active involvement in departmental students' politics and sports. He was a distinction student in human physiology and manipulative therapy. He was the Director of Socials of the Ife University Physiotherapy Students Association (IFUPSA) from 200 level and later became the General Secretary. It is on record that his tenure as the General Secretary organized the first "Physiotherapy week" of the IFUPSA which showcased the Role of Physiotherapy in Sports Development in Nigeria with a Guest lecture by a renowned Sports Physiotherapist, Oladipo Odunuga as the Guest Speaker.
On graduation, he did his compulsory one year internship programme at the department of Physiotherapy of the University of Benin Teaching Hospital (UBTH), Benin City and the National Youth Service Corp programme at the then Central Hospital, Asaba, Delta State. He got retained and offered jobs in both hospitals as a result of his excellent professional performance and general conduct but decided to settle for the UBTH job. Kayode Oke has worked in the UBTH since 1996 and has risen through the ranks to the post of Chief Physiotherapist with outstanding record of proficient performance.
Dr. Oke had his Masters degree in Human Physiology in 2001 from the University of Benin and bagged his doctoral degree (Ph.D) in Exercise Physiology/ Kinesiology from the same University in 2013. This achievement made him the first of his 1994 OAU physiotherapy graduating set to hold a Ph.D degree and also the first indigenous physiotherapist in UBTH to attain this feat since its creation in 1973. Oke, a dynamic, self-motivated clinician has attended many conferences locally and internationally, has presented papers in many conferences and had been engaged in many interdisciplinary gatherings to entrench the role of physiotherapy in medical and health care. He is a great advocate of physiotherapy, who has promoted his chosen profession via many media and has contributed very immensely to the improved awareness of physiotherapy in Nigeria. He was a weekly columnist on physiotherapy in the "Good Health" section of a Nigeria widely circulated newspapers, "the Sun", for many years and has delivered public lectures on physiotherapy in many fora. He also wrote on other newspapers like the Punch, the Nigeria tribune and Esan magazine to inform Nigerians on physiotherapy management of various medical conditions.
His primary research and practice interests are concerned with muscular actions, biomechanics and kinematics associated with human movement, pathomechanics of orthopaedic and musculoskeletal disabilities, and issues related to rehabilitation of musculoskeletal system dysfunctions with movement difficulty or inability in health and disease conditions.
Dr. Oke has published articles in a number of reputed peer-reviewed local and international journals on novel clinical research topics and observations. Dr. Oke is an author of an international book on human functional performance published in Germany and being sold in over 5000 bookshops around the globe, which is also available on amazon.com and booksellers.com among others. He is also in the membership of articles reviewing boards of a number of local and international journals.
He is a well travelled man who has gone to many countries around Africa, Europe and Asia attending conferences and training workshops which have all culminated in his very extensive professional experience and exposure. He is an outstanding Sports Physiotherapist who has severally travelled and participated in virtually all levels of sporting events as teams accompanying physiotherapist.
In his professional body, the Nigeria Society of Physiotherapy (NSP), Dr. Oke has been a force to reckon with having impacted significantly in its development, especially in the publicity aspect. He was the National Public Relations Officer and the Editor-in-Chief of the National PhysioNews, the official news magazine of the NSP, which he transformed from a newsletter piece to a quality magazine, now being referenced and modeled by other professional bodies in Nigeria. He brilliantly anchored many public events of the NSP that he was nicknamed "PRO emeritus" even after he has left office. Dr. Kayode Oke handled many other activities and programmes of the NSP like a colossus within six years, he was the host and administrator of the first indigenous website of NSP, World Physical Therapy Day project coordinator 2004-2008, and member of many serious committees of the NSP between 2002 and 2008. He was also the General Secretary of the Edo state chapter of the NSP between 2000 and 2005 and he is the current State Chairman of the chapter. Dr. Oke is also the current Secretary of the Education committee and the Chairman of Products Endorsement committee of the NSP.
Kayode Oke belong to many research and professional bodies and associations, he has been the Edo state coordinator of the Society for the Study of Pain, Nigeria (SSPN) since 1999 till date, he is a member of the Physiological Society of Nigeria, International Association for the Study of Pain, Nigeria Institute of Management, Medical Rehabilitation Therapist Board of Nigeria, among others.
He has lectured at the Institute of Health Technology of the University of Benin Teaching Hospital and has extensive clinical experience and esoteric skills in musculoskeletal and neuromuscular practice with evidence-based approach. Dr. Kayode Oke is a recipient of many awards, he was awarded in 2007 by the Department of Medical Rehabilitation of the Obafemi Awolowo University, Ile Ife as a "Distinguished Alumnus" and also in the same year by the "Union des Federations Africaines de karates at the 9es Jeux Africains d'Alger" as an "Effective and diligent" medical team support member. He was also a recipient of a GOLD MEDAL along with his GOLD Medal winning male Nigerian Basketball team at the 10th All African games in Maputo, Mozambique in September, 2011. Kayode Oke was voted as the best "departmental member of staff" for the year 2011 at the department of physiotherapy, UBTH in November, 2011.
Dr. Oke is a physiotherapist and a clinical biokinesiologist. He is married to his lovely jewel and blessed with children. He enjoys travelling and playing tennis for hobbies and he is strong believer in God's unequalled powers with his fervent believe that "a man backed by God can never be at the back".
Below are some his publications:
Oke KI, Ogunmakin SO & Agwubike E.O (2012). Assessing tetraplegic patients' Neuro-muscular adaptations to a six week physiotherapeutic programme. Global Journal of Health Science; 4 (5)):30-9.
Oke KI, Agwubike, E.O & Eregie, A.A (2011). "Weight Bearing Index and Gait Speed as Valid predictors of functional performance capacity in patients with type 2 diabetes mellitus". Ozean Journal of Applied Sciences; 4 (3). 237-244.
Oke KI, Agwubike EO & Odunuga OAC (2012). Nature and Incidences of musculoskeletal injuries in Nigeria male amateur boxing engagements. Global Advanced Journal of Medicine and Medical Sciences, Vol. 1 (7); 198-202.
Birabi, BN, Oke KI, Dienye PO & Okafor UAC (2012). Cost Burden of Post Stroke Condition in Nigeria: A Pilot Study. Global Journal of Health Sciences; 4 (6); 17-22.
Oke KI, Agwubike EO & Eregie A. (2011). Effects of Structured Exercise Therapy on Physical Functional Indices of Patients with type 2 diabetes mellitus in a Nigerian teaching Hospital. Ozean Journal of Applied Sciences, 4 (3).351-362.
Oke KI & Agwubike E.O (2010): Exercise therapy for the Type II Diabetic Persons. Journal of Research in Health and Sport Sciences; 10 (1). 8-19.
Oke KI & Dada O.L (2010). The criterion-validity of the Omron BF 302 body fat monitor. India Journal of Physiotherapy and Occupational Therapy.
Oke KI, Iyawe V.I & Onyia K.A (2009). A comparison of the beneficial effects of exercise training on cardiorespiratory status of male and female Undergraduate students. Journal of Medicine and Biomedical Research (JBMR), 8 (2). 9-14
Oke KI & Dada OO. (2004). Management of Injection Neuritis: Therapeutic Ultrasound to the Rescue. Journal of Physical Education and Research (JOPEC), Vol. V111, No 11.
Published
22:15:00 24.02.2013